Our Therapist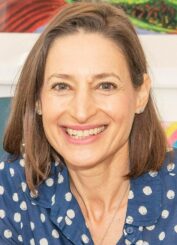 Charlotte Schuman
I love being a natural eyesight improvement teacher! – The Bates Method is a fascinating, life-enhancing, joyful technique and I want to share it!
I improved my eyesight myself using Dr Bates' book, in 2001, after ten years of frustratingly blurry, short-sighted vision. I didn't wear my glasses much during those ten years, because I hated the way I looked in glasses. I also worried constantly about my vision, and used to feel absolutely desperate to improve it somehow.
Once I had improved it, my optician shook my hand and exclaimed: "I always thought it might work"!
This was a great moment! I then decided to train to become a teacher myself, so that I could share this extraordinarily effective and life changing method with others.
I now teach in person and online, 1:1 lessons and group workshops and courses. My clients are very varied, and come from all over England and the world, from all walks of life and all age groups. I love teaching both adults and children. Every lesson I give is a joy and a privilege for me, and I am constantly grateful for the opportunity to help others to learn this wonderful, effective and relaxing method of vision improvement.
After I turned 45, I began having difficulty seeing up close…so I worked on this, and of course, as a result, can still see clearly to read even sew and thread needles. In fact, I recently astounded my optician; as I walked out, the optician who had measured my vision refused to believe I was in my 50's – with excellent distance and reading vision due to my work with the Method, my vision results completely defied the norm! The Bates Method works, and as one client put it: "It requires some dedication, but the results are astounding!"
I also offer Bach Flower consultations, as they can help support the self-healing vision improvement process. I'm also a Laughter Yoga coach, so laugh, relax and create some extra joy in your life and the world with me, if you wish to book a Laughter Yoga session.